"Hand-made YuyuShin Kobo" which is based on hand-making to enjoy Japanese cloth

This website is a gallery of works of Shin kobo. This is a gallery for those who like Japanese cloth.
Born in Japan and surrounded by japanese fabrics, which are many traditional crafts, the stationery around us is all western-style chemical fibers or leather products. I wanted to enjoy the work which made use of the cloth of "It is stylish", "There is a article", and "It is in masa". ... Japanese-style version of Western-style stationery, titled "Japanese-style Western stationery"!

Although it is a small production capacity for handmaking, i enjoy the beauty of the cloth pattern and make the work which came up with the feeling of "handmade laboratory one day".
I want something like this, but I can't find it in the shop... Then let's create it ourselves! That's how I started.
Handmade is convenient! The biggest feature is that you can make a piece of fabric of your choice, and the size is free.
The original of the only one which is not commercially available is born one after another.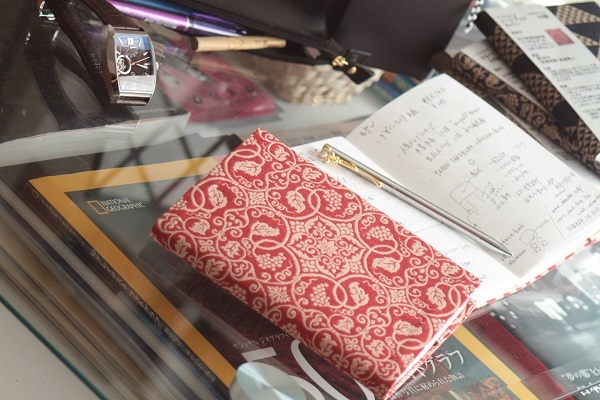 Ancient Cleavage "Grape Tang Grass Gokama", Watecho
Examples of major works of Japanese Western stationery

In addition to the general stationery works, there are more and more works that are pleasant depending on the idea.

[1] business cards & card holders
【2】Watecho "Patented Products"
[3] book cover
【4】Notebook Notebook Cover
[5] smahocover
[6] bag inBag
[7] greeting card
【8】Bookmark si strap
[9] Ticket&Wallet
【10】Pocket Paper
【11】Material file
【12】Sheet Music File
【13】Pleasant Stationery
【14】Pollen Measures Goods
【15】Life-long Life

Depending on the idea, only one work has been born, but a more nice and pleasant one is created by the variation of the fabric to create! ... For more information, please refer to the "Japanese-style Western Stationery Gallery" page.

You can also see the latest information of shin kobo works, such as new works, on the following SNS.
♦Facebook http://www.facebook.com/shinzou kubota/
@Instagram https://www.instagram.com/shinzoukubota/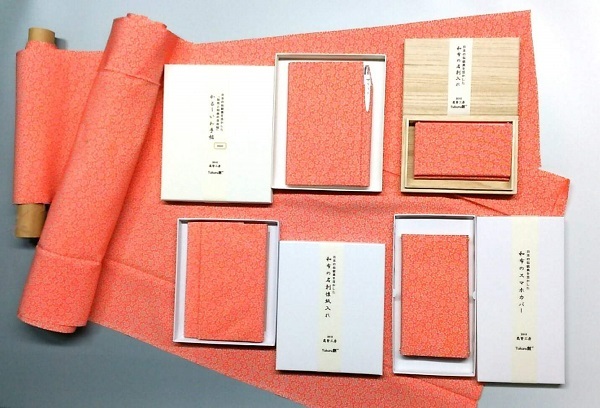 Edo Komon Anti-product You can make more than one stylish offering
Let's make full use of the fabric which finished the active service by changing the shape.

In a sustainable era in which good things are sustained and reproduced, Shinkobo calls it "The Komina Kobo", and if you have your favorite fabric, you can play it back into almost all kinds of Japanese Western stationery. Let's make the best use of the beauty of kimono and obi, which are good traditional crafts works in Japan.

In conjunction with the newly purchased fabric, we have made use of the fabric of the Japanese pattern that we offered from everyone. The fabric of the stock of the present Shinkobo is divided into the following.
A Ancient Cleavage Series ... Seikurain Pattern Fabric including Kyoto Nishijin Reprint Ancient Cleavage Air weave
B Modern Gold Series ... Modern specification fabric sofering traditional golden coat method
C Oshima Tsumugi & Basho Fu Series ... Oshima Tsumugi and Basho Fabric
D Trendy Edo-cho Pattern Series ... A stylish fabric that expresses the atmosphere of Edo
E Pure Japanese pattern series ... fabrics used in traditional kimonos and belts
F Zodiac Series ... Zodiac fabric
*For details, please refer to the "Fabric Sample" page. (Unfortunately, we are not able to post everything.) I take care of it as soon as I can arrange it. )


Thank you for the spread of your edge!

2011In July, he retired from a general company that had worked for several years at the age of 60, and started a one-man business after a while. In 2020, when the seventh year of "monozukuri", which i started as a hobby, reached about 3,000 pieces of total delivery, and the shape was finally visible. The market spreads and it is very grateful with a pleasant desire a little by all because it really indulges in a lot of edges the other day.
Looking back, in the first challenge of the full marathon 2018/11 Kumejima, i learned the sense that if it lasted, i.e., i.e., i.e., i.e., i.e., i.e., i.e., i.e., i.e., i.e., i.e., i.e., i.e., i.e., i.e., i.e., i.e., i.e., i.e., i.e., i.e., i.e., i.e., i.e., i.e., i.e., i.e., i.e., i.e., i.e., i.e., After 365 days of permanent exhibition places in the corner of kyobashi's urban redevelopment skyscrapers, there are four permanent locations that have been tried to create works at a one-day pace, and in recent years it has finally reached the annual pace of the target. Thank you very much for your support during this time.
In 2020, when corona damage was damaged, we have started a plan to try to receive overseas orders in March, and we have developed our website, including the establishment of the shin-kobo system.
For details, please refer to the "Profile/History" "SHOP" page.


Manufacturing through the request of Japanese goods exhibited and sold at the public exhibition at the Tokyo Metropolitan Art Museum, dealers and friends and acquaintances happy reaches to want to be, and every day keeps the creative.

I enjoy making new things. We are continuing to produce new products with the enthusiasm of the handmade laboratory (laboratory) of one handmade one day per day.

Whatever you do "first step" to be attracted.

---

Background / history / achievements

And businesses, personnel, education, product development, sales management, sales, experienced directors and Corporate Auditors
-Business coach, NLP certification
2012Mandatory retirement
-Handmade Yu Yu, Studio business registration
-"I book" (notebook cover with penholder) patent & design Gets
And Kyoto, Hanno, in kawagoe, in doubles as the antenna shop and exhibition sales
, Tokyo Metropolitan Art Museum contemporary pastel society public exhibition
-Join the exhibition sale of Kichijoji, Tokorozawa, Shinjuku, Shibuya, Ginza,
And performing arts Office officer
-Collaboration with the writer's Kimono remake
-Antique apron Tote writer's collaboration.
-Collaboration with Kyoto Nishijin Weaver
-Store "tuktuku"-start
2016
-Japanese small writer's collaboration.
-Collaboration with multi Muse Shan
Permanent exhibition sale started at Kyobashi edgren
Chuo-ku Tourism Association membership
And belongs to Nerima-Ku arts and crafts artists Federation. Theme is "mekari craft.
2017
, Gallery Kyobashi Morris's first solo exhibition
-Hakone ashino-Lake stories Museum exhibition launched
Japan bridge kimono Salone del Mobile support participation
Participated in the 21st Nerima-ku Handicraft Artists Exhibition
Experience Department held participation in Chuo-ku tourism events
-From Sutra netShop on start
-Yokohama one from Rotary Club member birthday keepsakes years contract.
2018
Tobu department store tradition craft exhibition support participation
-Participate in Paralympic support from s. Hibiya park events
-Hakone ashino-exhibition launch at Lake narukawa art museum gallery shop
-Ethical toy sale
-EVELYN toy sale
-Nerima-Ku Ward industrial center two months exhibit marketing
-Tokyo International Choral competition announced "mekari music".
Participated in the 22nd Nerima-ku Handicraft Artists Exhibition
2019
Participation in tokyo marathon EXPO2019 support
・Participated in support of Ishimi Kagura Photo Exhibition
・Started "Handmade Artist's Salon" at Wacca Building 3 minutes at Ikebukuro East Exit
・"Two types of sheet music goods" presented at the 2nd Tokyo International Chorus Competition
・Adopted "Nihonbashi Goods" at Nihonbashi Information Center at Nihonbashi Tato, and started selling exhibits.
・Started two types of sheet music goods on the sheet music floor at Ginza 4-chome Yamano Musical Instrument Head Office.
Participated in the 23rd Nerima-ku Handicraft Artists Exhibition
2020
Opened an online shop page on the website.
Startof "ETSY", a mail order site for foreign countries... Shop name "TezukuriCraftShin"
2021
- Corona Disaster
・Selected as a souvenir recommended by Chuo-ku, "Tokyo Manaka ippindo" product started mail order nationwide.
2022
・ Announcement of a new model of sheet music cover of Yamano Musical Instruments Head Office exhibition
2023
・Monozukuri Japanese pattern station Shinkobo World Exhibition held

This page has been translated automatically. Please note that it may differ from the original content.